The Spyderco Tenacious folding pocket knife features an overall length of 7 3/4 inches when open and 4 1/2 inches when closed and has a satin finished, non-serrated, modified drop point blade that measures 3 3/8 inches in length that is made from 8Cr13MoV stainless steel which is a budget priced Chinese steel similar to AUS8A but with slightly more Chromium (which makes it more corrosion resistant).
The Spyderco Blade
Although the Spyderco web site fails to mention the hardness of the blade on this knife, this steel is usually hardened to 56 to 58 Rockwell and the blade features an unusual "leaf-shaped" drop point that is ground flat from spine to cutting edge for superior cutting performance. In addition, the blade's shape coupled with an oversized "Spyderco Round Hole" and textured "jimping" on the spine allow you to open the blade and position your thumb on the spine ready for work in slip-proof confidence. Plus, a Walker Linerlock (with "jimped" liner) and a 4-way pocket clip on the black, G10 laminate, handle lets you set your carry and draw preference: tip-up, tip-down, left-hand, or right-hand.
While the shape of the blade on this knife is certainly unusual, it is not without merit. In fact, the straight edge transitions into a very slight sweep that would be excellent for slicing and could be used for hunting in pinch. Therefore, it would serve well as an everyday carry knife and could serve as a companion to a fixed blade knife in the field. In addition, the 8Cr13MoV steel is both tough and highly corrosion resistant; thus making in an excellent choice for general purpose use but, do not expect superior edge holding ability such as would be achieved with 154CM, ATS34, or 440C.
Using The Spyderco
The lack of an assisted opening mechanism does make this knife somewhat more difficult to open single handed than those with such a mechanism. In addition, I am not personally a fan of liner locks. On the other hand though, liner locks are easier to close than rear locks because they can be operated with one hand and without moving the hand from the normal position on the grip. Also, the grip itself is very well designed and is very ergonomic and the use of G10 laminate is a wise choice since this material is impervious to scratches, dents, chipping, cracking, and immersion in water and the handle is drilled to accept a lanyard. Plus, I do like the ability to position the pocket clip to select either right or left hand carry as well as blade tip up or down draw.
About Spyderco Knives
I have heard it said that Spyderco knives are different, peculiar, even and out there. However, thinking beyond established knife industry barriers allowed them to introduce new and radical innovations to the knife industry including: One-hand opening, serrations on a folder and a clip to attach a knife to a pocket.
The, Spyderco is definitely out of the norm in the knife industry in their dedication to researching and developing fresh, improved, and better performing materials all with function and reliability being key. In fact, according to Spyderco, someone once said to Sal Glesser (Spyderco's owner) "You must design in the dark because your knives look so strange." But, their easily recognizable appearance is a result of designing ergonomic, functional, tools rather than applying lipstick and nylons to a pocketknife. So, although they may look curious, they could never be called unusable or undependable.
Making knives that consistently deliver reliable high-performance requires an ongoing commitment to testing. Thus, in their million-dollar testing facility, they examine edge retention with a CATRA machine, look for rust development with Q-FOG, and research the force needed to open and close a knife. They also repeatedly test for stress, wear, optimal heat-treating, and actively search for higher quality, performance enhancing, steels and materials. Now, as a customer you probably don't think about this or much care but, it allows them to put forth a promise: When you purchase a Spyderco knife, you are buying a high-quality, reliable, cutting tool designed and manufactured for peak performance and ergonomic comfort. Consequently, the Spyderco Tenacious folding knife definitely displays Spyderco's unusual way of thinking about folding knife design but also displays their commitment to incorporating high quality materials and excellent craftsmanship.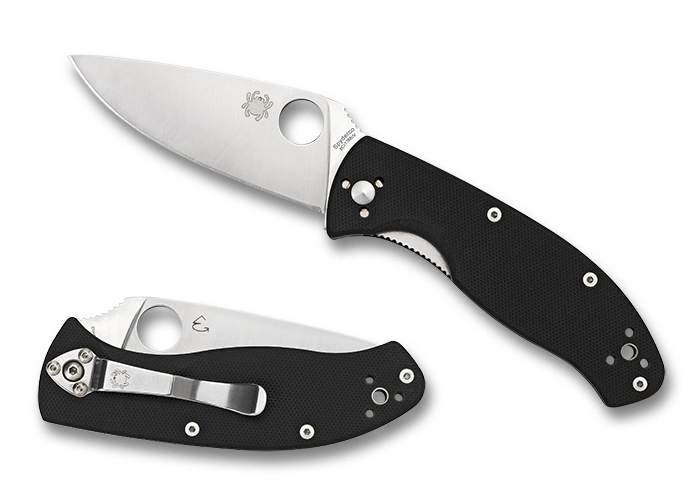 Summary
So, for an inexpensive everyday carry knife for general purpose use, this knife is an excellent choice and, while I would not classify it as heirloom quality, it is a good "working knife" that will likely last the lifetime of the user. Thus, when considering the purchase of the Spyderco Tenacious over other more expensive folding knives, you have to ask yourself if better quality blade steel, assisted opening mechanisms, and more sophisticated locking mechanisms are worth the added cost for your intended purpose.
Written by Bill Bernhardt
Last updated: August 17, 2023 at 11:10 am